Like this recipe? Share it on:

Write a comment
A light, fluffy and moist cake with fresh strawberries. This strawberry cake is very easy to make and takes no time at all. The addition of oil and fresh fruits gives this cake a unique moist texture that keeps it fresh for several days.
All ingredients should be at room temperature.
Ingredients:
For the cake:
4 eggs (size M)
140 g sugar
2 tsp vanilla sugar
100 ml rapeseed oil (or sunflower oil)
220 g wheat flour
1 package vanilla pudding powder (approx. 40 g)
1 level tsp baking powder
400 g fresh strawberries
Zest of ½ lemon (optional)
Icing sugar for dusting
Directions:
Preheat the oven to 180°C, top and bottom heat.
Prepare a spring form cake pan (diameter 26 cm) by lining the bottom with parchment.
Wash the strawberries, pat dry and remove the little green leaves.
In a bowl mix together the flour, pudding powder, baking powder and lemon zest (if using).
Separate the egg whites from the egg yolks.
Beat the egg whites until stiff peaks form. Gradually add the sugar beating well between each addition.
Now gradually mix in the egg yolks, and then the oil.
Using a spatula fold in the flour mixture in 2 portions.
Pour the batter into the prepared cake pan, smooth it down and spread the strawberries evenly over the batter. Halve large strawberries.
Bake for 50 minutes (do the skewer test to see if the cake is done).
Once baked remove the cake from the oven and let it cool in the pan completely.
To decorate dust with icing sugar.
Time:

Preparation time:

Baking time:

Number of portions:

approx. 12

Difficulty:
easy
Cost:
inexpensive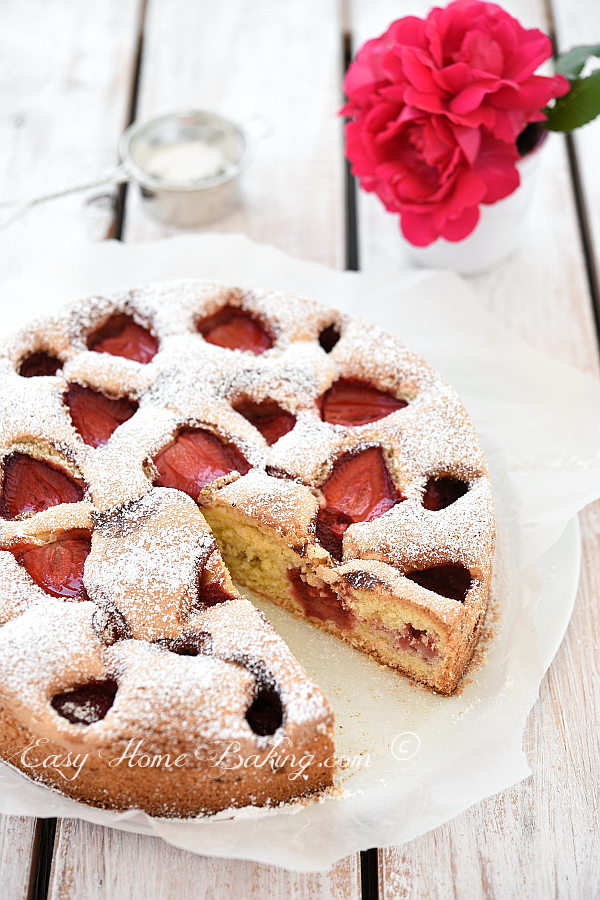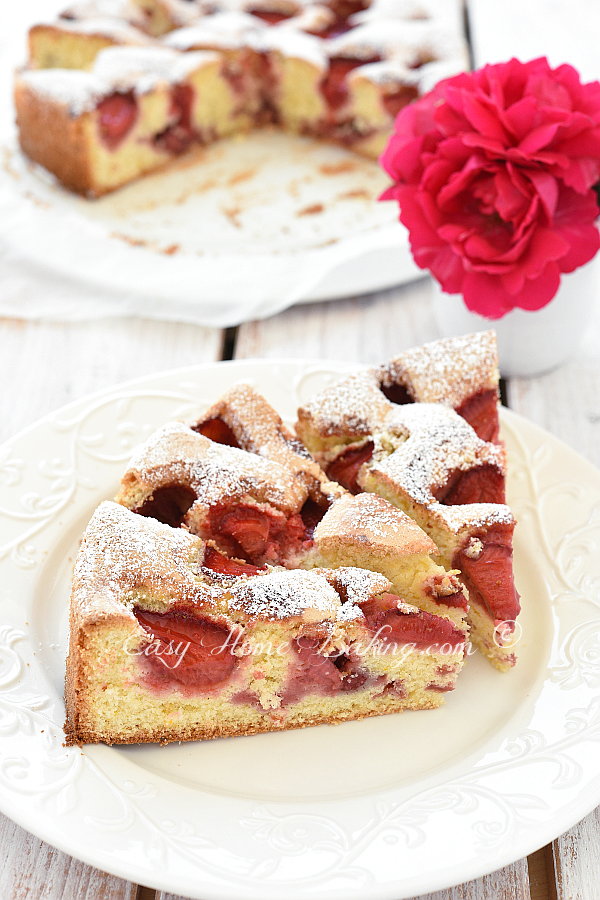 Like this recipe? Share it on: