Like this recipe? Share it on:

Write a comment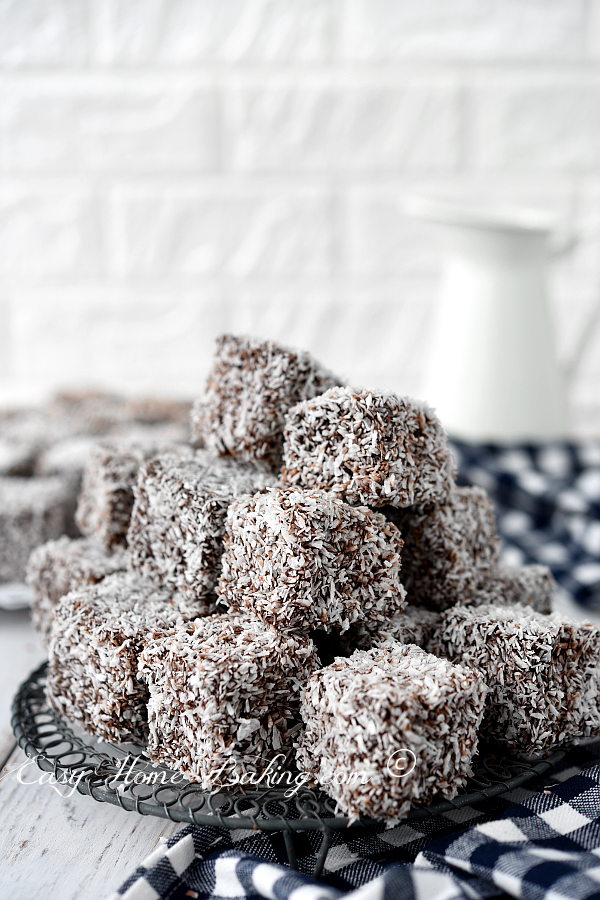 Lamingtons, originated in Australia, are squares (cubes) of butter cake dipped in the chocolate icing and then coated in desiccated coconut. The chocolate icing helps to keep the sponge inside moist. They are soft, sweet, fluffy and simply delicious.
All ingredients should be at room temperature.
Ingredients for approx. 25 pieces:
For the cake:
130 g butter or margarine
150 g sugar
2 teaspoons vanilla sugar
3 eggs (size M)
220 g wheat flour
2 level teaspoons baking powder
125 ml milk
For the chocolate icing:
200 g icing sugar
40 g cocoa powder
170 ml milk
35 g butter
For the coating:
approx. 200 g desiccated coconut
Directions:
Preheat the oven to 180°C, top and bottom heat.
Prepare a (24 cm) square cake pan by greasing with butter and dusting with flour.
Sift together the flour and baking powder and set aside.
With an electric mixer cream together the butter, sugar and vanilla sugar until light and fluffy. Add eggs, one at a time, beating well after each addition.
Reduce the speed of the mixer to low. Add half the flour mixture to the butter mixture until just combined. Then stir in half the milk. Repeat with remaining flour and milk. Do not over mix.
Pour the cake batter into the prepared pan and bake for 30 minutes. To check it is done insert a skewer into the middle of the cake. If it comes out clean, take the cake out of the oven and let it cool in the pan for about 20 minutes before turning out onto a cooling rack, with the bottom of the cake facing up and let it cool completely (this will help to ensure that the top of the cake flattens while it cools).
Cut the ends and the surface of the cake off.
Cut the cake into 25 squares using a long knife.
For the chocolate icing, sift icing sugar and cocoa powder into a metal or glass bowl. Heat milk and butter until the butter melts, then whisk in the icing sugar and cocoa powder until smooth. (It is a good idea to keep the chocolate icing warm, by sitting the bowl over a small saucepan of simmering water, when icing the lamingtons).
Place the desiccated coconut in a small bowl.
Dip the squares of cake, one by one, into the chocolate icing, using two forks until evenly coated. Allow excess icing to drip off, then place the square in the bowl of coconut. Sprinkle a bunch of coconut on the top and roll the square in the coconut. Place the square on a cooling rack to sit.
Store in a covered container for several days in the refrigerator.
Cuisine:

Australian

Time:

Preparation time:

Baking time:

Wait time:

Number of portions:

approx. 25

Difficulty:
easy
Cost:
inexpensive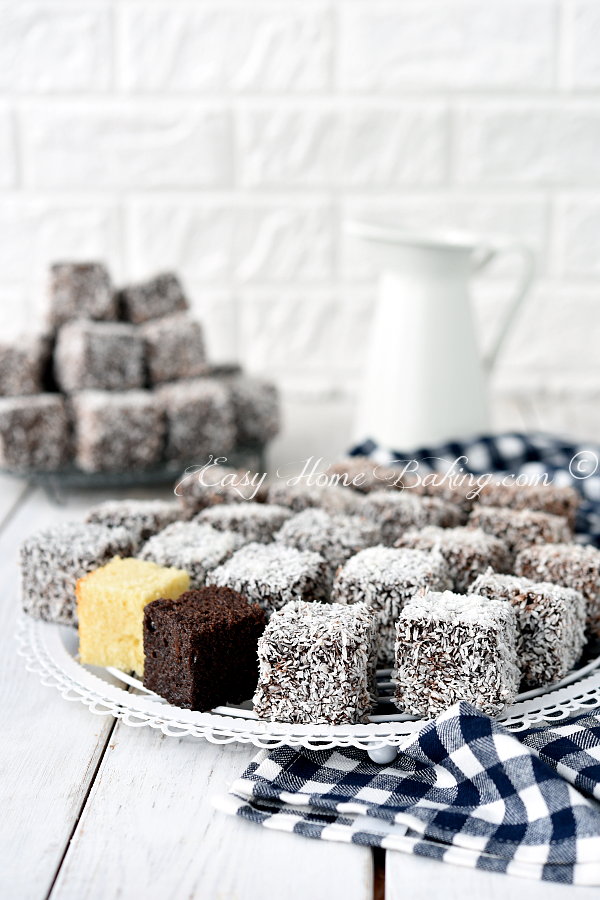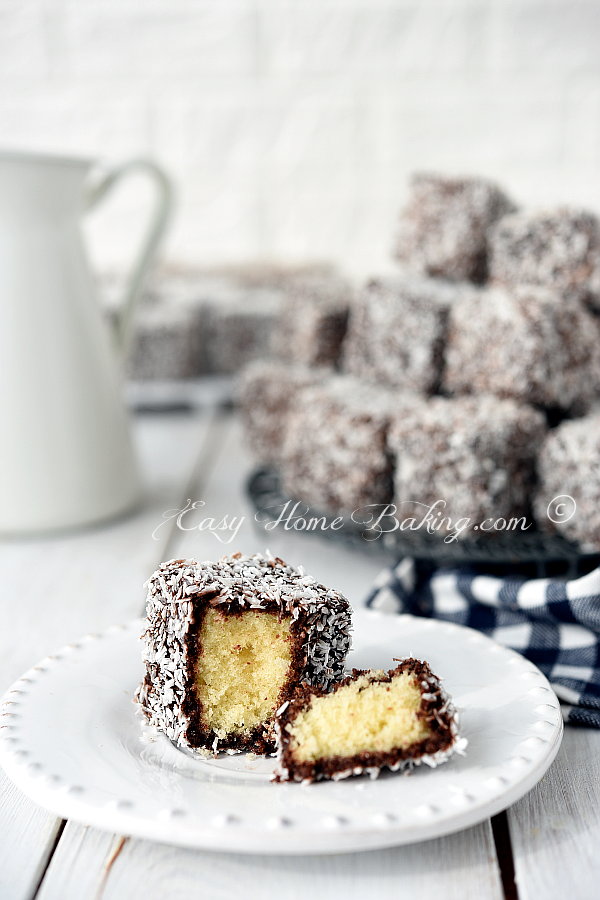 Like this recipe? Share it on: