Like this recipe? Share it on:

Write a comment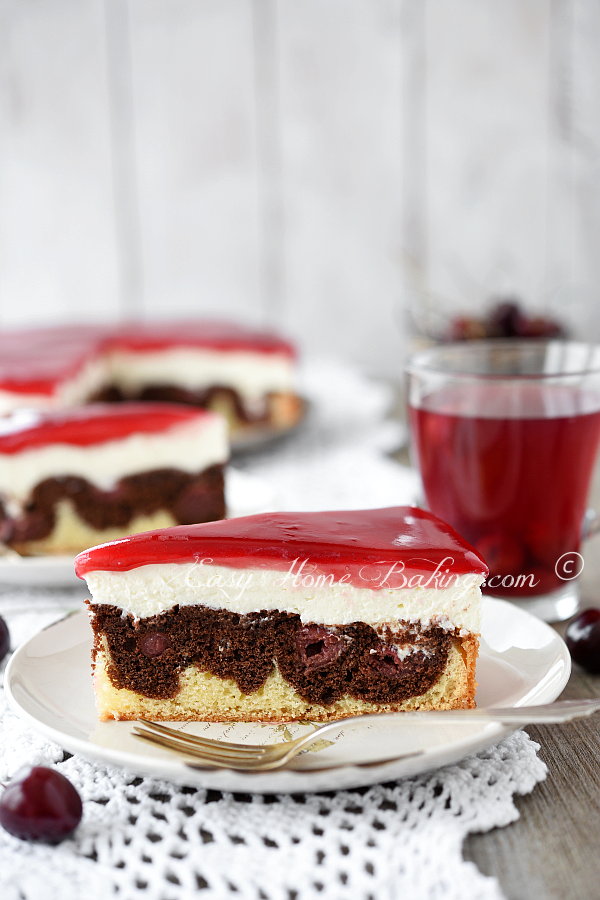 The base consists of a two-coloured vanilla and chocolate cake with sour cherries embedded in it. The cake is then covered with light cream and cherry topping. It resembles the 'Danube Waves' cake, but it is richer and more delicate in texture. This is a very tasty and refreshing cake.
All ingredients for the cake batter should be at room temperature.
Ingredients:
For the cake:
100 g butter
130 g sugar
3 eggs
200 g wheat flour
4 teaspoons baking powder
2 tablespoons Nutella or cocoa
1 jar of sour cherries (drained weight: 250 - 300 g)
For the quark topping:
500 g quark
3 teaspoons vanilla sugar
50 g sugar
2 sachets whipping cream stabilizer
400 g heavy whipping cream
For the decoration:
1 sachet clear cake glaze or 1 package red jello (e.g. cherry jello)
Directions:
Preheat the oven to 180°C, top and bottom heat.
Prepare a 26 cm diameter spring form cake pan by lining the bottom with parchment paper.
Drain the cherries through a sieve, keeping the juice for use later.
Mix together the flour, baking powder, sugar, eggs and soft butter until smooth.
Pour half of the cake batter into the prepared cake pan and mix the remaining half with either the Nutella or cocoa powder and then pour it over the first layer in the pan.
Arrange the cherries equally of the batter and then bake it in the preheated oven for 40 minutes.
To see it the cake is done insert a skewer in the middle, if it come out clean remove the cake from the oven and let it cool completely.
Prepare the quark topping. Mix together the quark, sugar and vanilla sugar.
Beat the heavy whipping cream by adding the cream stabilizer until still peaks and then fold this into the quark mixture with a spatula.
Place a cake ring around the cake and top the cake with the quark mixture.
Place the cake in the fridge for about 3 hours to allow the quark to set.
*Prepare the clear cake glaze by following the instructions on the pack, but use 250 ml of the cherry juice you saved and 2 tbsp of sugar. Allow it to cool enough to pour it over the quark.
Now place the cake back in the fridge for a few hours.
Source: Slightly modified recipe from www.chefkoch.de
Cuisine:

German

Time:

Preparation time:

Baking time:

Number of portions:

approx. 12- 16

Difficulty:
medium
Cost:
medium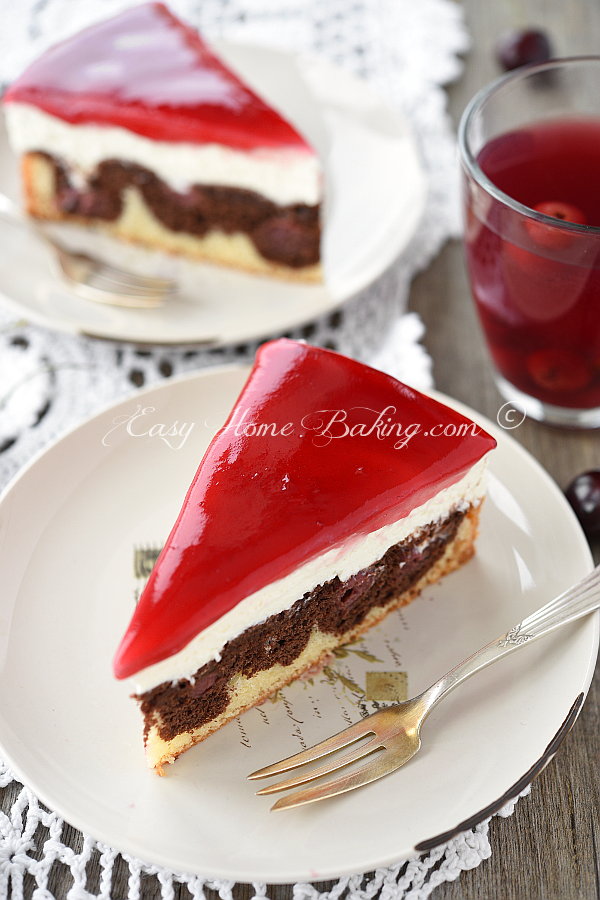 Like this recipe? Share it on: