Like this recipe? Share it on:

Write a comment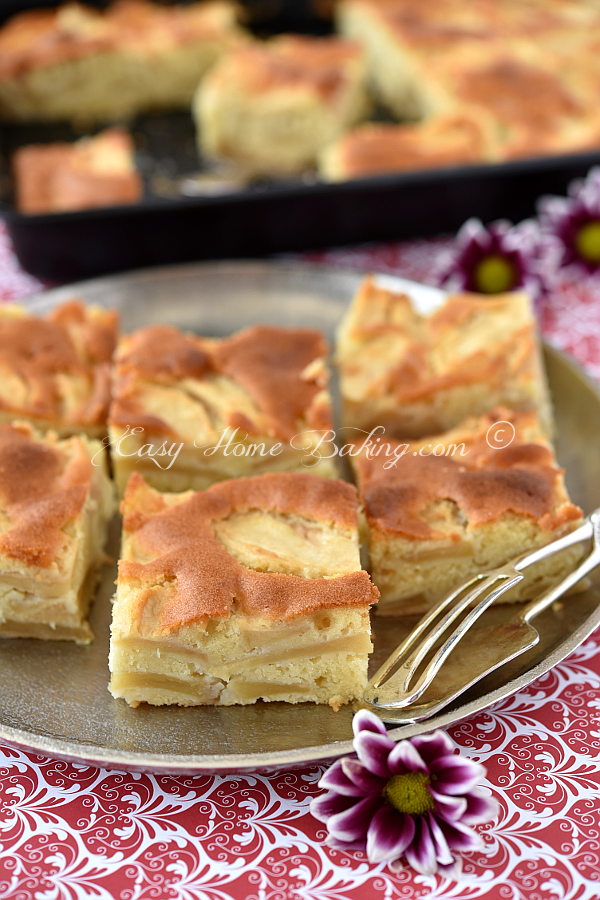 A simple apple cake. The amount of apples in relation to the dough is very high, but do not worry it is meant to be. I had to double check myself when I first baked this cake to make sure that I did not perhaps misread the recipe, but I promise, stick with the quantities and you will be pleasantly surprise with how balanced and delicious this cake is.
All ingredients should be at room temperature.
Ingredients:
For the cake:
2 kg of apples (use your favorite baking apples, for example Granny Smith)
250 g butter
180 g sugar
2 teaspoons vanilla sugar
5 eggs
350 g wheat flour
3 teaspoons baking powder
Directions:
Preheat the oven to 180°C, top and bottom heat.
Prepare a rectangular cake pan about 40x 30 cm by greasing with butter and dusting with flour.
Wash, dry, peel and core the apples and then cut into slices.
In a bowl sift together the flour and baking powder and set aside.
Cream together the butter, sugar and vanilla sugar until light and fluffy.
Continue mixing at a high speed and then add the eggs one at a time. When fully mixed, fold in the flour with a spatula or wooden spoon.
Lastly gently combine in the apples.
Transfer the batter to the prepared cake pan and bake for 45 minutes. (Original recipe bakes for 30 minutes at 200°C).
After baking turn the oven off and leave the cake in the oven with the door slightly open and let it cool down for a bit. After a few minutes, take the cake out of the oven and let it cool completely.
It can be served sprinkled with a little icing sugar.
The recipe comes from the book: "Die Oberpfalz kocht auf: Rezepte von Amberger Schmankerlwirten und Oberpfälzer Landfrauen". I reduced the amount of sugar and baking powder.
Time:

Preparation time:

Baking time:

Number of portions:

approx. 24

Difficulty:
easy
Cost:
inexpensive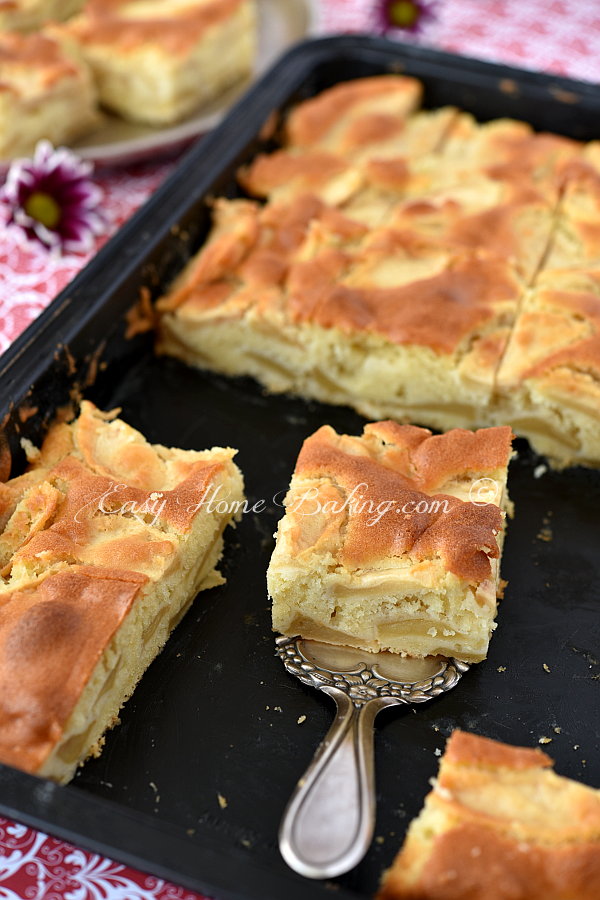 Like this recipe? Share it on: