Like this recipe? Share it on:

Write a comment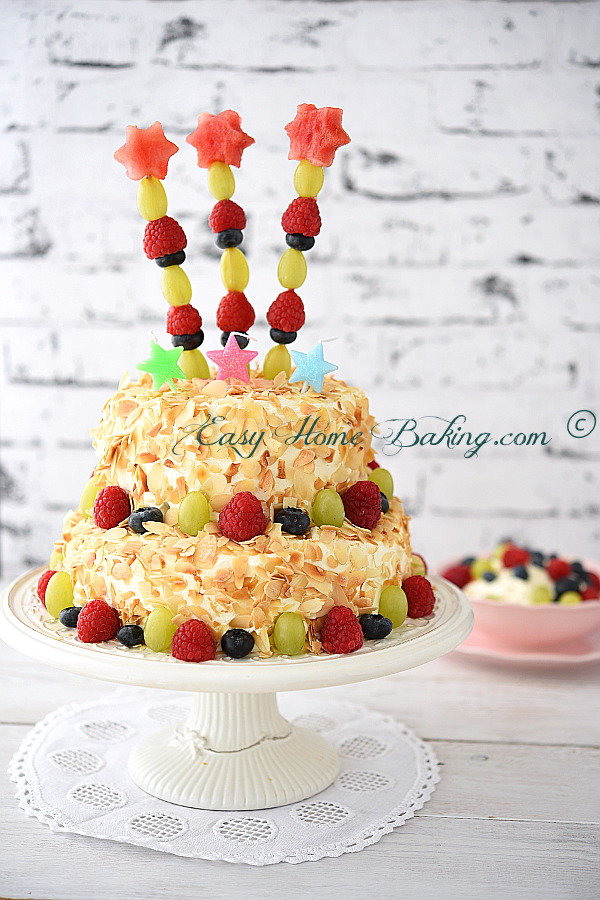 Fast, impressive, refreshing and healthy watermelon "cake". A delicious dessert for hot summer days. It does not require baking and is very easy to prepare. It is also flour and eggs-free and contains only a little sugar.
This cake of sorts was made for my youngest daughter for her birthday. We had just returned from a holiday the night before and I had to unpack and do a heap of laundry in the morning still ;). There was no time to bake. The watermelon proven to be the ideal solution. The "cake" was quick to prepare and ready to serve after a short stint in the refrigerator.
In the fastest version, you can prepare a one-story cake. All you have to do is to peel the watermelon and even it with a knife to create an oval shape. Then you cover it with cream and decorate with fruit. I decided for a two-story cake to make it look even better.
Ingredients:
1 medium watermelon (best is pitted)
ca. 60 g almond flakes (sliced)
fresh fruit for decoration, e.g. strawberries, raspberries, blackberries, currants, wild blueberries, blueberries, grapes, bananas or kiwis
For the cream:
250 g mascarpone cheese
ok. 300 g sweet (whipping) cream (30- 36% fat)
1 tablespoon icing sugar
Directions:
Wash the watermelon and cut at its ends.
Cut the watermelon in half and peel it.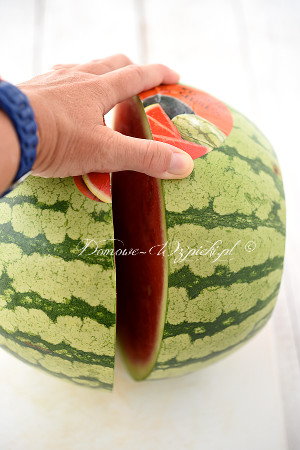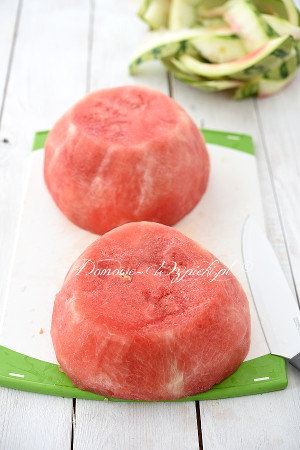 The two halves are rounded now. Cut off the rounded parts from one half (for the bottom of the cake) and flatten the sides with a knife. Dry with a paper towel and place on the cake stand.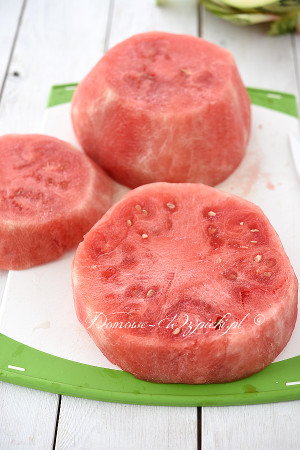 Cut a cylinder of smaller in diameter than the lower one from the other half. Dry with a paper towel and place in the middle of the bottom disc.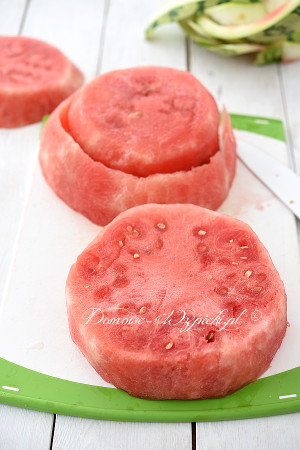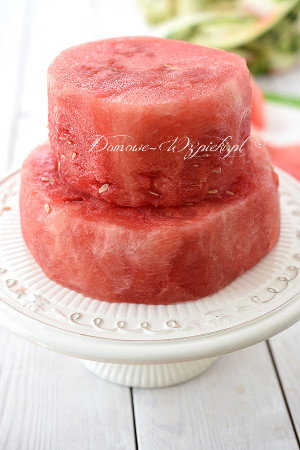 Toast the sliced almonds on an ungreased pan until lightly browned. Leave to cool.
Prepare the cream. Whip cold cream and cold mascarpone cheese together in a bowl to form a stiff, fluffy batter cream. At the end of whipping add icing sugar.
Spread the cream over the watermelon. Sprinkle with roasted almonds and decorate with fruit.
Let the cake cool for about 1 hour in the refrigerator.
Time:

Preparation:

Baking:

Ready In:

Number of portions:

approx. 12

Difficulty:
easy
Cost:
medium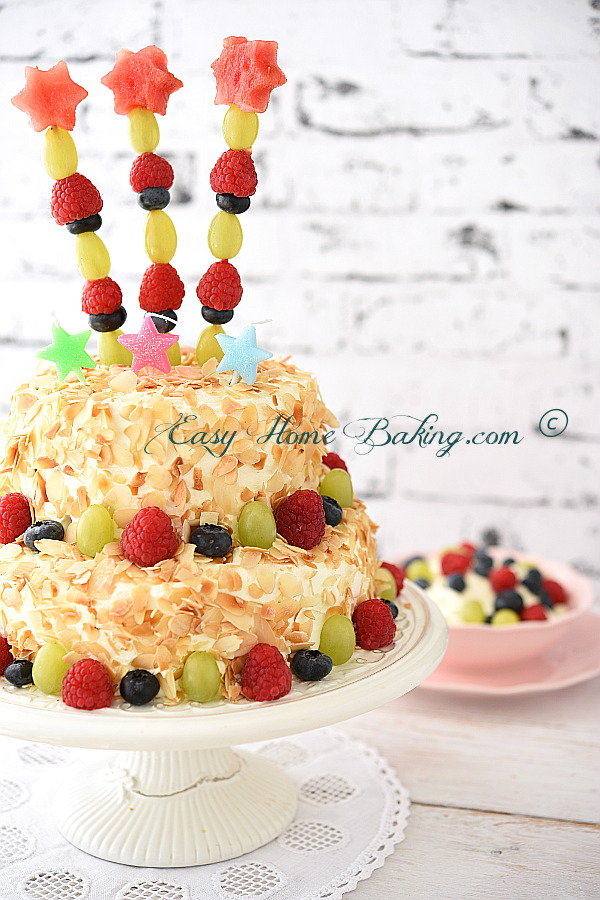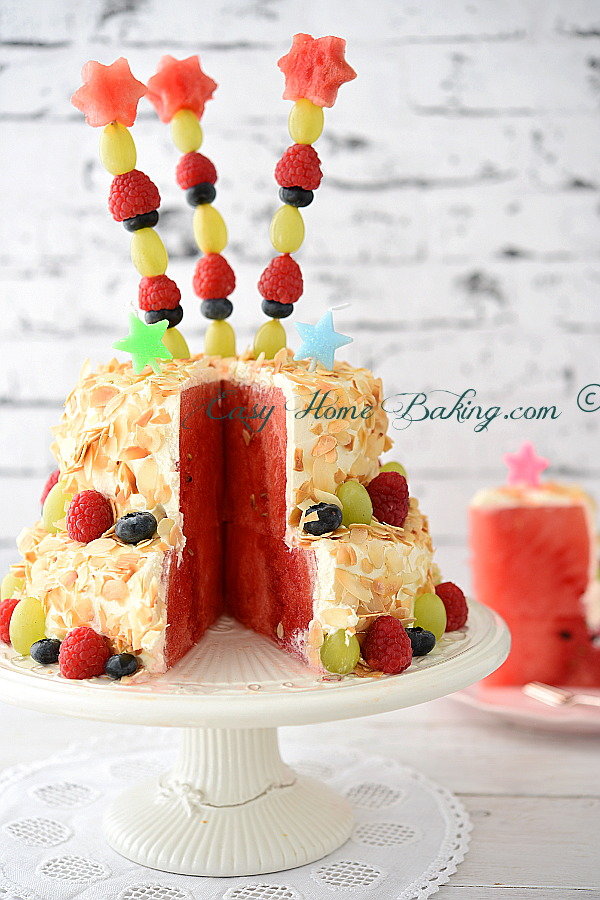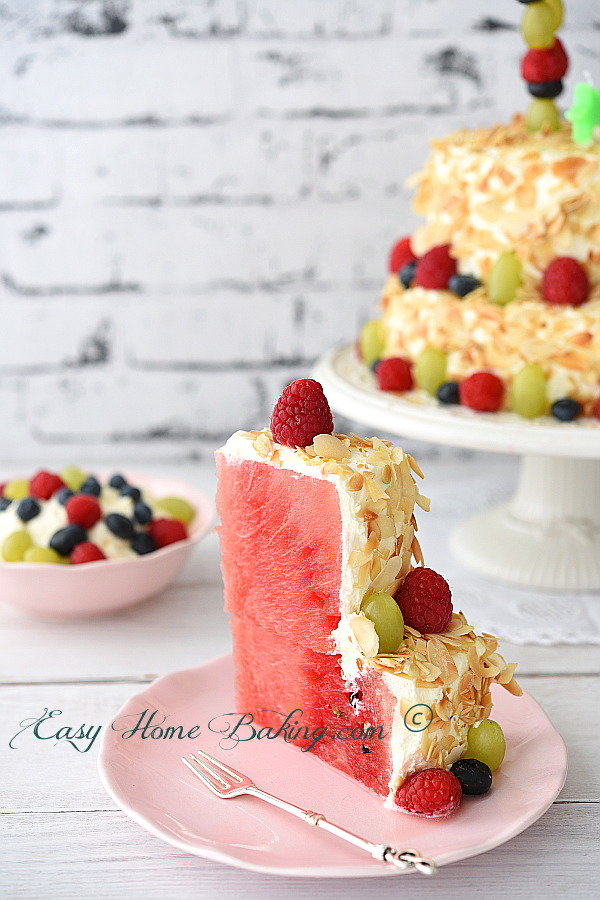 Like this recipe? Share it on: