Like this recipe? Share it on:

Write a comment
A simple, tasty and moist cake. This cake is loaded with apple pieces and nuts. It retains its freshness for a few days therefore can easily be prepared a few days in advance if baked for a special occasion. I decorated the cake with a thin layer of whipped cream and roasted desiccated coconut.
The gluten-free version of this cake is given in the remarks under the recipe.
All ingredients should be at room temperature.
Ingredients:
For the cake:
300 g wheat flour* (= 2 glasses)
2 teaspoons baking powder
1 teaspoon cinnamon
4 apples (approx. 800 g)
125 ml rapeseed oil (= ½ glass)
4 eggs (size M)
200 g sugar (= 1 glass)
100 g walnuts (= 1 glass) or ½ glass of nuts and ½ glass of raisins
Zest of 1 lemon (optional)
freshly squeezed juice from ½ lemon (optional)
For the decoration:
100 g whipping cream or heavy whipping cream
1 tablespoon of icing sugar
30 g desiccated coconut
Directions:
Preheat the oven to 180°C, top and bottom heat.
Line a spring form cake pan (diameter 26 cm) with parchment paper.
Chop the nuts and set it aside.
Wash, dry, core and peel the apples and then cut into ¼-inch cubes.
Combine the apples with the nuts, raisins, lemon zest and lemon juice and set it aside.
Sift together the flour, baking powder and cinnamon and set aside.
With an electric mixer on high speed mix together the eggs and sugar until light and fluffy, for at least 5 minutes, then slowly pour in the oil until well mixed.
Setting your mixer speed on low add the flour mixture until all ingredients are just combined.
Using a spatula, fold in the apple mixture.
Transfer the batter to the prepared cake pan and bake for 60 minutes. Check the cake is done by inserting a skewer in the middle, it should come out clean.
Once baked leave the cake to cool completely.
For the decoration roast the desiccated coconut in a dry pan until golden in colour, but make sure not to burn it.
Whip the cream until stiff peaks and then add in the icing sugar.
Spread the whipped cream evenly over the cake, which has to be completely cool and then sprinkle with the coconut.
Time:

Preparation time:

Baking time:

Number of portions:

approx. 12

Difficulty:
easy
Cost:
inexpensive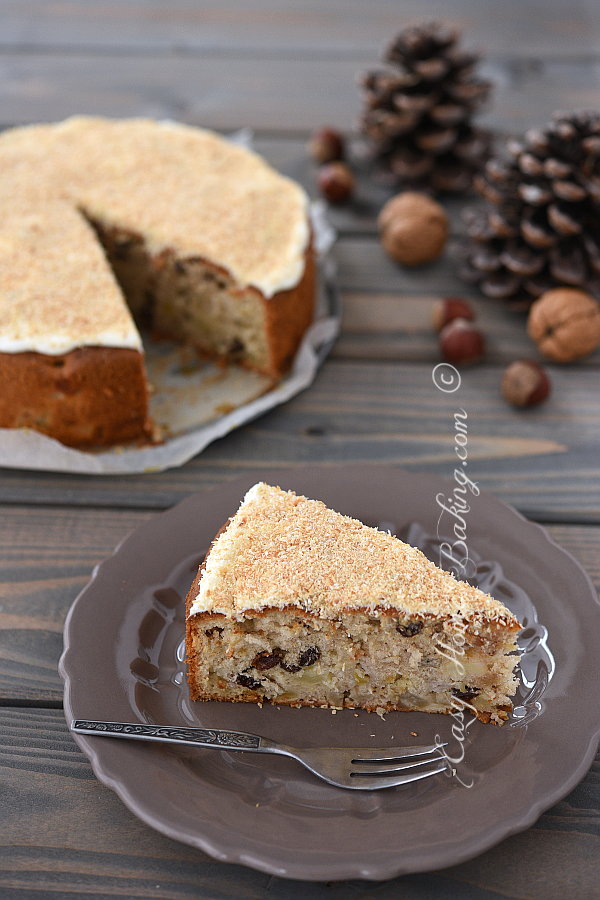 Like this recipe? Share it on: