Like this recipe? Share it on:

Write a comment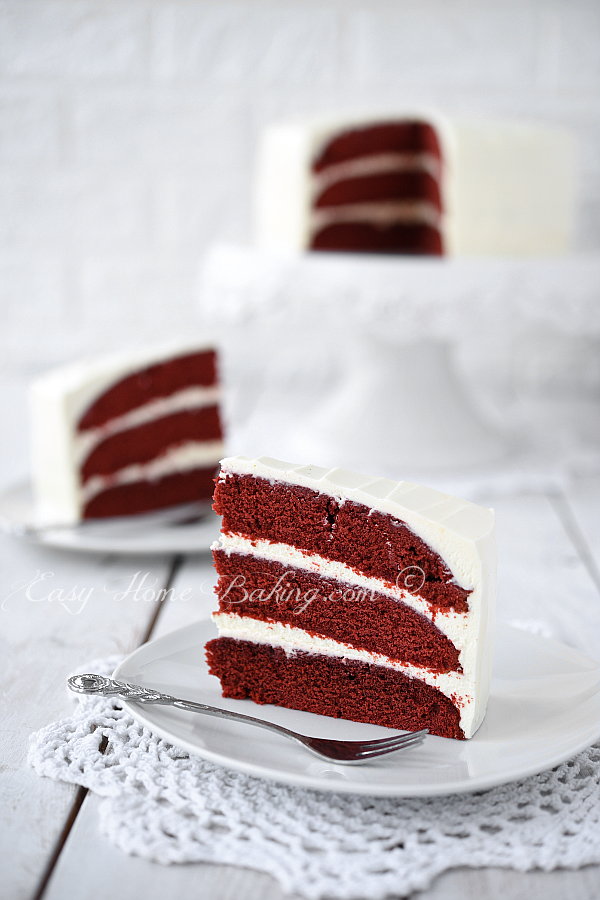 A classic American cake with an intense red coloured sponge based that is even more accentuated by the simple smooth white cream cheese frosting. The cake has no real distinct flavour notes, but never the less is very tasty and looks very elegant in its simplicity.
All ingredients for the batter should be at room temperature.
Ingredients:
For the cake:
350 ml milk
1½ tbsp white wine vinegar
75 ml red, liquid food colouring (I used 2 tsp of the red Wilton gel food colouring)
480 g wheat flour
300 g sugar
30 g cocoa
1 tsp salt
1 tbsp vanilla sugar
170 g butter
3 eggs (size M)
1½ tsp baking soda
1½ tsp white wine vinegar
For the cream cheese frosting:
110 g butter, at room temperature
600 g cream cheese
1 tbsp vanilla sugar
250 g icing sugar
Directions:
Preheat the oven to 160°C, top and bottom heat.
Prepare 3 spring form cake pans (diameter 22 cm) by lining the bottom with parchment paper.
Prepare the cake. Mix the milk, 1½ tbsp of white wine vinegar and food colouring and set it aside.
Mix together the flour, sugar, cocoa, salt and vanilla sugar in bowl with a whisk or on low with an electric mixer.
Add the soft butter to the flour mixture and mix for about 5 minutes on low (or medium) speed.
Slowly add the milk mixture until combined.
Add the eggs one at a time until the batter is smooth.
Mix together the baking soda with the last 1½ tsp of white wine vinegar and mix this into the smooth batter.
Divide the batter evenly between the 3 cake pans and bake for 45 minutes. Check that the cakes are done by inserting a skewer into the middle and if it comes out clean take them out of the oven and let them cool completely on a cooling rack.
Prepare the cream cheese frosting. Cream together the butter, vanilla sugar and icing sugar until creamy. Add the cream cheese and the whip using an electric mixer until smooth.
Spread even layers of the frosting between the layers of cake and use the rest of the frosting to cover the cake completely. If the frosting is to soft just put it in the fridge for a few minutes.
Once decorated keep the cake in the fridge.
Slightly modified recipe from the book: "United States of Cakes" by Roy Fares.
| | | |
| --- | --- | --- |
| | Cuisine: | American |
| | Total preparation time: | |
| | Number of portions: | approx. 12 |
| | Difficulty: | medium |
| | Cost: | medium |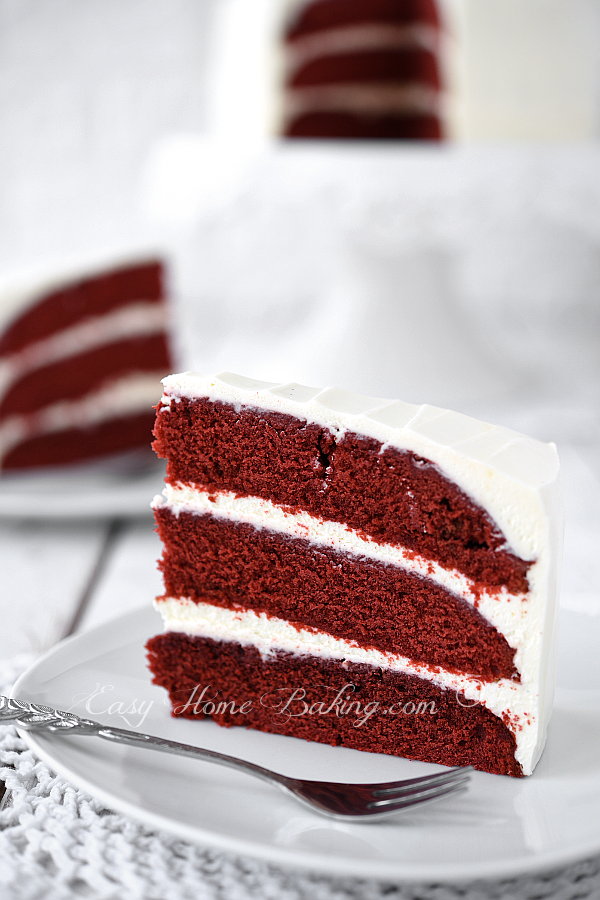 Like this recipe? Share it on: