Like this recipe? Share it on:

Write a comment
This is a very moist cake with pieces of quince throughout and that has very intense chocolate flavour and covered in a dark chocolate glaze. You can easily substitute the quinces for apples. Either way this is a very tasty cake.
This recipe requires no baking powder to be added.
All ingredients for the batter should be at room temperature.
Ingredients:
For the cake:
800 g quinces (or apples)
220 g sugar (original: 290 g)
60 g bitter chocolate
140 g wheat flour + some to coat the quinces/apples (I used 2 ½ tablespoons)
40 g chopped almond pieces without the skin
6 eggs (size M)
160 g butter
50 g cocoa
1 pinch salt
For the chocolate glaze:
100 g bitter chocolate
1 teaspoon of oil, e.g. rapeseed oil
Directions:
Preheat the oven to 190°C, top and bottom heat.
Prepare a 30 cm long loaf tin by greasing with butter and dusting with flour.
Wash, dry, peel and core the quinces and then cut into about 2 cm cubes.
Put the quinces in a pot adding 50g sugar and then cover with water until almost covered. Cook it for about 20 minutes. (The quinces/apples should be soft but not mushy and still retain their shape). Pour this into a colander or sieve to the drain the liquid and let it cool.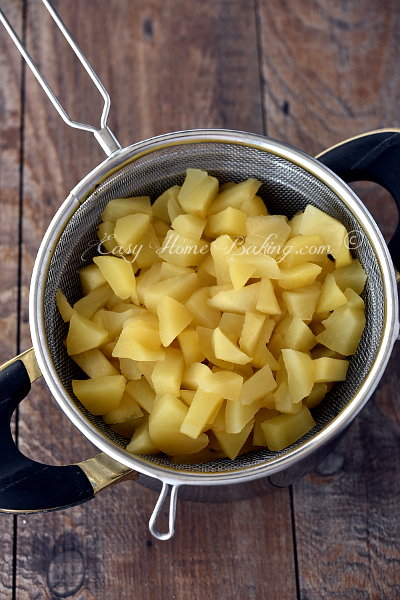 Once cooled cover the cooked quinces with the extra 2,5 tablespoons of flour. (This prevents them from falling all the way to the bottom while baking).
Finely chop the chocolate and mix it together with the flour, cocoa and chopped almonds and set it aside.
Separate the egg whites from the egg yolks.
Cream the butter with 60g of the sugar until light and fluffy. Continue mixing at a high speed adding the egg yolks one at a time.
Whip the egg whites separately with a pinch of salt until stiff peaks and gradually add the remaining sugar.
With a spatula gently fold it into the butter mixture, making sure not to over mix as you want to keep the air in the egg whites.
Now gently add the flour mixture and then the quince pieces.
Pour the batter into the prepared loaf tin and bake for 60 minutes (the original recipe put baking time at 40 minutes, but in my case it was not fully baked until about 65 min) check that the cake is done by inserting a skewer into the middle and if it comes out clean take it out of the oven and let it cool.
Prepare the chocolate glaze by breaking the chocolate into small pieces and adding the oil. Melt this over a double boiler and then pour it over the cooled cake.
Let the glaze set for a bit before serving.
Source: Revised recipe from the book "Unser bayerisches Backbuch" by Martin Rößler.
Time:

Preparation time:

Baking time:

Number of portions:

approx. 16

Difficulty:
medium
Cost:
medium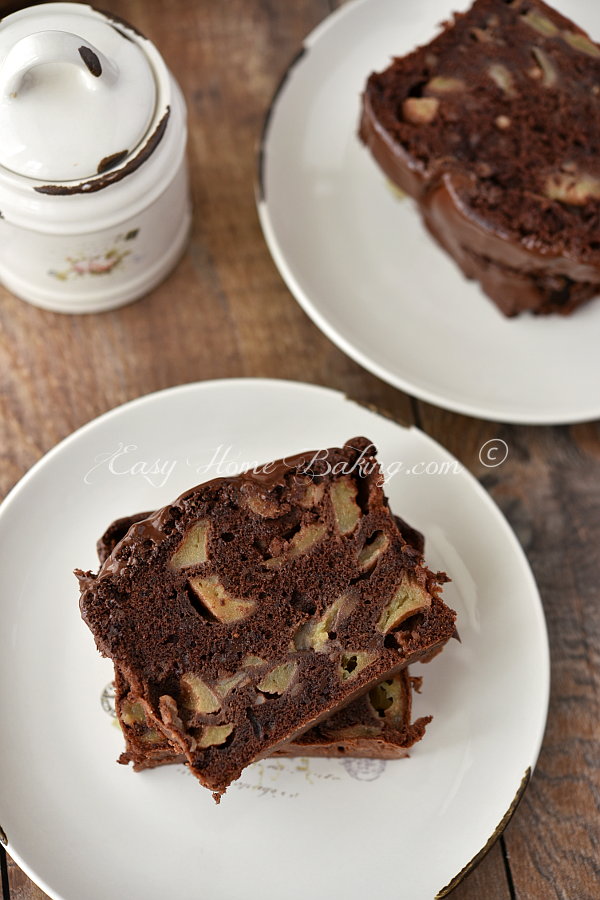 Like this recipe? Share it on: